Flint Campus student selected for NFL diversity in sports medicine program
May 25, 2023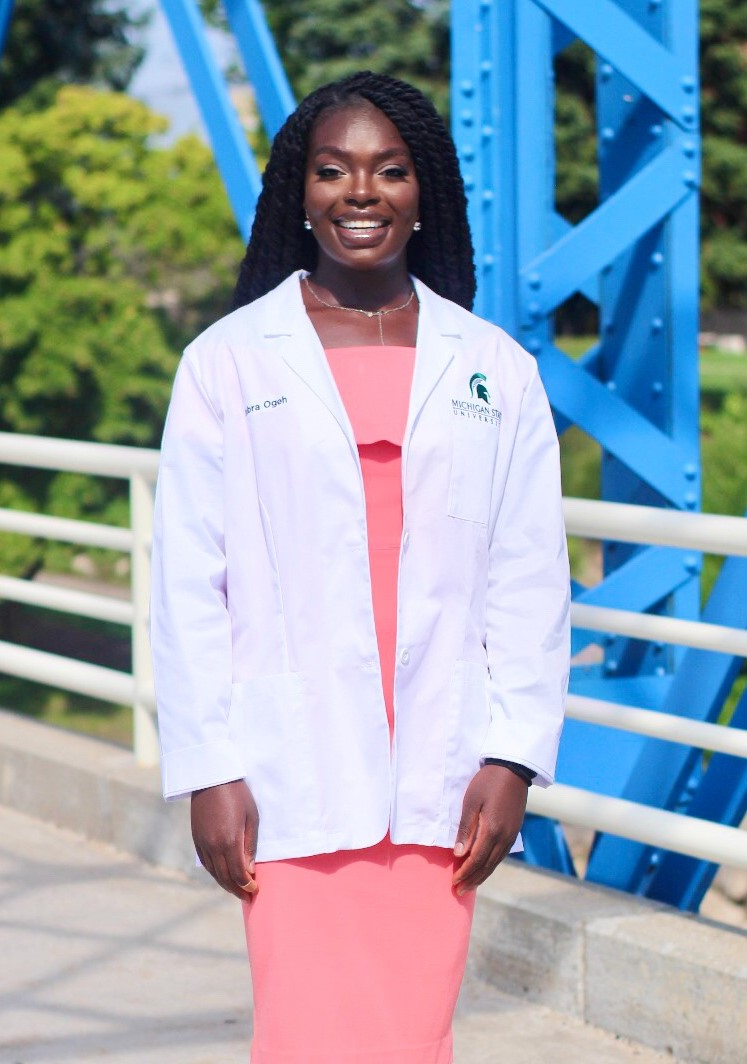 Tamarandobra (Dobra) Ogeh, a third-year medical student at the College of Human Medicine's Flint Campus will get to complete a one-month clinical rotation with the Detroit Lions and Henry Ford Health sports medicine physicians as part of the NFL Diversity in Sports Medicine Pipeline Initiative.
Now in its second year, the initiative aims to increase and diversify the pipeline of students interested in pursuing careers in sports medicine to help make a positive impact in the medical field and, over time, work to diversify NFL club medical staff.
On May 22, the NFL, together with the NFL Physicians Society (NFLPS) and the Professional Football Athletic Trainers Society (PFATS), announced the league-wide expansion of the initiative providing medical students with the opportunity to complete a clinical rotation with NFL club medical staff.
"There's racial diversity in the players, and I think it's really important to also have that racial and gender diversity reflected in the training and medical staff because increasing diversity in medical care teams has been shown to improve patient care overall," said Ogeh.
Originally from Nigeria, Ogeh and her family emigrated to Toronto, Canada, when she was five years old. She moved to the U.S. for her college career. "The fact that the NFL — which is not only sports medicine, but it's sports medicine at the highest level — is showing their commitment to diversifying the field is amazing," she said.
"In school I was an athlete, and I always had interest in sports medicine, and more specifically orthopedic surgery but it's a field where there aren't a lot of people that look like me," said Ogeh who played Rugby. "This initiative is going to help push the needle forward. And now that I'm doing it, there can be room for other people that look like me to do it."
"I think the program is essential and is phenomenal," added Jennifer Edwards-Johnson, DO, Flint Campus community assistant dean. "Orthopedic surgery is one of the specialties in which we really see a need for programming to simulate diversity so that we create a workforce that comes close to mirroring the population that is going to be served.
"In addition to being a black woman who's really interested in orthopedics, Dobra is just exceptional," added Edwards-Johnson, an associate professor of Family Medicine. "She came to our campus and before even arriving in Flint, she had already reached out and articulated her interest in orthopedic surgery and in working with underserved communities. She has been such an asset to the Flint campus and is really dedicated to serving community."
"The opportunity for us to work with a student of Dobra's caliber and participate in this NFL program is a great reflection of the power of our Henry Ford and MSU partnership," said T. Sean Lynch, MD, Henry Ford Health orthopedic surgeon and Detroit Lions head team physician. "We are so fortunate to have so many incredible medical students throughout the great state of Michigan, and programs like this help shape the future of diversity in sports medicine."
Last year's inaugural class was comprised of 14 students from the four Historically Black Colleges and Universities (HBCU) medical schools who completed rotations across eight NFL clubs. The 2023 program expands to match diverse students from 19 medical schools with NFL clubs across the league.
Diverse medical students in-training, including those training to become sports medicine-focused physicians, are historically underrepresented. According to the Association of American Medical Colleges, enrollment of diverse students is increasing. During the 2022-23 academic year, "the number of Black or African American matriculants increased by 9%," and "matriculants who are Hispanic, Latino, or of Spanish origin increased by 4%," while "American Indian or Alaska Native matriculants declined by 9%." The NFL's Diversity in Sports Medicine Pipeline Initiative is expanding to provide more students with an interest in sports medicine exposure and opportunities in the field.
"Working toward diverse representation across all roles in our league continues to be a top priority, and this program helps us make a tangible impact to grow and bolster a pipeline of diverse sports medicine professionals," said NFL Commissioner Roger Goodell. "We know that diversity makes us stronger at every level, and we look forward to welcoming the 2023 class to our player care teams at clubs across the league."
The inaugural program for the 2022 season was comprised of students from the four Historically Black Colleges and Universities (HBCU) medical schools – Charles R. Drew University of Medicine and Science, Howard University College of Medicine, Morehouse School of Medicine, and Meharry Medical College.
This year, in addition to MSU College of Human Medicine, participating institutions also include:
Case Western Reserve University School of Medicine
Georgetown University School of Medicine
Perelman School of Medicine at the University of Pennsylvania
Sidney Kimmel Medical College-Jefferson Medical
Stanford University Medical School
University at Buffalo's Jacobs School of Medicine and Biomedical Sciences
University of Kansas School of Medicine
University of Minnesota Medical School
University of Nevada Las Vegas School of Medicine
University of Pittsburgh School of Medicine
University of South Carolina School of Medicine Greenville
McGovern Medical School at UTHealth Houston
University of Washington School of Medicine
Wake Forest School of Medicine